Congratulations, we have made it through one year of a Trump presidency.
We started off the month with a huge donation we were not expecting from the local IBEW #375.  I thought we were going to a meeting about apprenticeships and we did talk about apprenticeships but the most important item they wanted to talk to us about was how all they wanted to support East Penn Democratic Club's work.  The money has no strings attached.
Ed Pullin produced and published the first two episodes of Ignite Lehigh Valley, East Penn Dems' own podcast! Denise Woodworth is our host, Kate Cassidy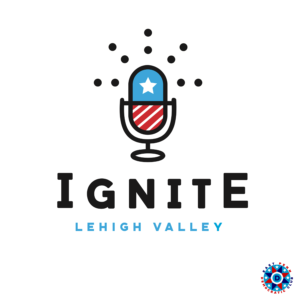 created the Ignite Lehigh Valley logo, and Bob Elbich and I were the first guests. You can find it on our website, on Soundcloud, and soon on iTunes and Google Play.  Listen and share.
Andy Lee, candidate for State Rep in district 131, had an amazing announcement event on Jan. 10th.  Just about every candidate, official and union rep was present.
We have another contestant for the congressional race, Northampton County D.A. John Morganelli.
Rep. Keith Ellison, Deputy Chair of the DNC and Governor Tom Wolf, were in Allentown on the 12th for a Townhall on Immigration at POWER Northeast Action.  There was a huge turnout.  Main message was that we should, and will, stand up for DACA and TPS recipients. We need to amplify our message to fight the fake news.  Aidan and I got pulled into a private fundraiser and we were able to talk more one on one with him.  We told him about our new pod cast, produced and funded by Ed Pullin. We got a fist bump.
There was an excellent debate on Medicare for All for the congressional candidates on the 17th , moderated by by Richard Master, who was a director for the documentary Fix It.  We were fortunate to have a volunteer livestream it on Facebook for those who could not attend, Thank you Megan Pelkey! PCN also recorded it.
FIERCE Lehigh Valley and Next Gen America held the Own Your Power Women's Rally on January 20th at Payrow Plaza in Bethlehem.  I was invited to speak about my life and how I became your president and organizer for New Americans Caucus.
PCP recruitment is in full speed, there are still way too many holes and help is needed to call the lists that we have.  Today we are going to learn more about what is involved but there are also two different training opportunities on Saturday, January 27th 9am & 12pm at IBEW #375 new location 101 S 7th St in Allentown.  Parking is not an issue; there is a huge lot adjacent to the building.
Thursday, we are co-hosting a Meet and Greet with Lieutenant Governor candidate, John Fetterman. Thursday, January 25th at 7pm at POWER Northeast Action 917 Turner St in Allentown.  We will be hearing speakers as well as the candidate himself.
There is a Special Election coming up in PA for a congressional seat that can be flipped to Democrat on March 13th.  Even though we are not super close to Pittsburg we do have the ability to help the dynamite Democratic candidate, Conor Lamb.  I do need a few volunteers to host phone banks to be set up the first two weeks of March.  Please see me, call or email about this way you can contribute. Please see our recent email for more info.
We are seeking candidates to challenge Rep. Gary Day in the 187th district for the PA House.
We're also looking for notaries to volunteer services to notarize candidate petitions in early March.
Upcoming events:
Fair District Resolutions will be going before Township Supervisors on the following dates.

We need your support:

Upper Milford Township Supervisors February 1 at 7:30 PM, 5671 Chestnut Street, Old Zionsville,PA 18068
North Whitehall Township Supervisors, February 6 at 7:30 PM, 3256 Levans Road, Coplay, PA 18037
Weisenberg Township Supervisors, February 12 at 7:00 PM, 2175 Seipstown Road, Fogelsville, PA 18051

Petitions for all candidates start February 13th
Please follow and like us: