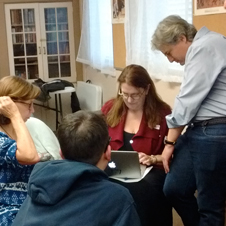 Volunteers are needed in each committee.
Which committee matches your talents?
The Education Committee tackles issues of interest to our membership and helps all citizens be better informed about politics and civil society.
The Events and Fundraising Committee raises much-needed funds for our own organization and for those candidates worthy of our support.
The Data Tracking and Research Committee attends local and regional government meetings and stays in close touch with our coalition. They lead us to the issues important to our people and party.
The Neighborhood Task Force Committee will create a new grassroots project that pairs our members with people in specific neighborhoods to make contacts friendly and memorable.
The Communications Committee maintains our website, writes our blog, and manages our social feed. It also supports local candidates with everything from speech writing to message workshops.
The Outreach Committee forges partnerships with local organizations to make a bigger impact together. It supports shared action and scouts for promising candidates.